Aerial Knight's Never Yield Receives Huge Update
"Da Update" brings many new features to the 3D runner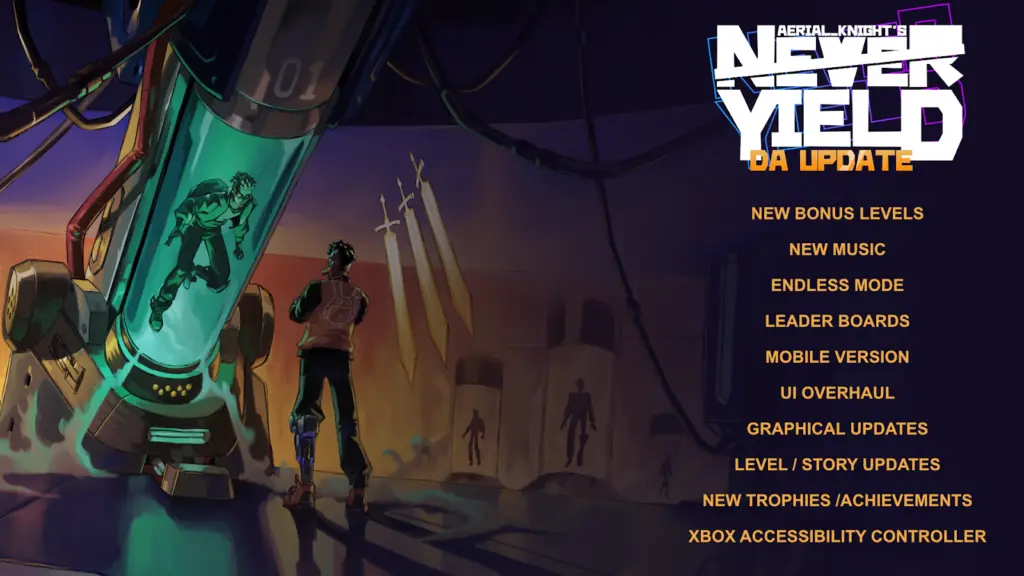 Aerial_Knight's Never Yield launched last year as a 3D runner for consoles and PC. The game takes place in a futuristic version of Detroit and features a soundtrack filled with Detroit music artists as well as other artists of color. Soon, the game will receive a brand new update that brings new content, music, and features to the game.
Aerial_Knight's Never Yield Gets a New Update and a Mobile Port
The new patch for Aerial_Knight's Never Yield is being called "Da Update" and brings with it many new features. For starters, there is now a new endless mode as well as bonus levels for players looking to experience more of the game. An online leaderboard has also been introduced. Players also have a reason to replay the story mode as a new post-credit song has been added.
Additional improvements added thanks to Da Update include an overhauled UI, improved graphics, brand-new achievements, and controller support for the Xbox accessibility support. In addition to this update, a mobile version of the game is coming soon. Neil Jones, also known as Aerial_Knight, is looking forward to the response to this new update: "I'm excited to see the response when people get to dive into this new improved version of the game and soon play the mobile release."
Aerial_Knight's Never Yield is available for the PlayStation 4, PlayStation 5, Xbox One, Xbox Series X|S, Nintendo Switch, and PC.