5 Best Mechanical Keyboards for Gaming 2020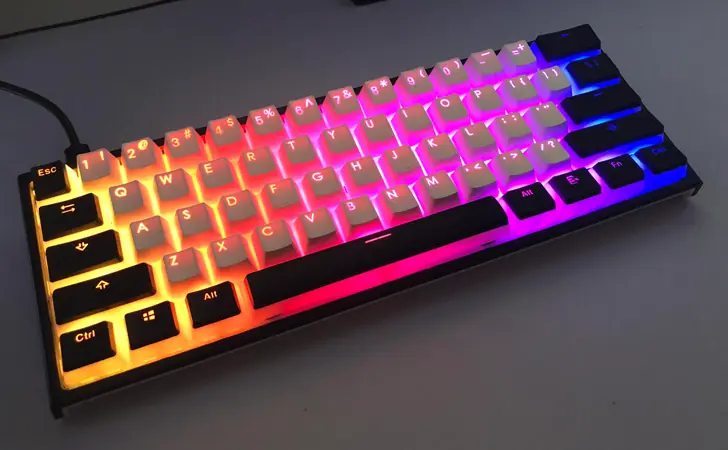 It's a wise decision to invest your money into where you spend the most time. For gamers, the place you probably find yourself most nights is right in front of the computer. The right peripherals can take your gaming experience to new heights, especially when it comes to keyboards. There's nothing quite like the feeling of typing on a well-built, high-quality keyboard.
If you've never used a mechanical keyboard before, you might be wondering why it matters. Mechanical keyboards were an essential part of computer technologies during the late 1980s and early 1990s. During the home computer market boom, mechanical keyboards were a default.
Companies scrambled to figure out how to efficiently mass produce these machines to keep up with growing consumer demand for computers, and keyboard quality subsequently took a hit. Cheap, low-quality keyboards flooded the market and quickly became the norm. While there has always been a niche market for mechanical keyboards, the recent rise of eSports and PC culture has gamers and computer professionals focusing on quality peripherals once again. Gamers are one group of people who benefit most from high precision gaming mice and responsive, durable keyboards.
Programmers, bloggers, and various other professionals who spend most of their time in front of computers realize the benefits of mechanical keyboards. With decades of experience as a gamer and tech professional, here are my picks for the best mechanical keyboards for gaming in 2020.
5 Best Mechanical Keyboards for Gaming in 2020
Here's our top 5 best Mechanical Keyboard for Gaming in 2020:
Filco Majestouch-2
After testing out many keyboards, this one reigned supreme over all others. The Filco Majestouch-2 is a pleasure to type and game on, and the MX Brown switches provide a nice feeling tactical response on the fingers. The one thing that makes this keyboard stand out from all others is the build quality. In terms of durability, it reminds me of an old Nokia "brick" phone, which was notoriously known as being indestructible.
Some gamers may not appreciate the minimalistic Filco keyboard, as there are no bling RGB lights and no USB ports. For me, however, this is yet another reason why I love it. The price is in the middle range for quality mechanical keyboards, but those of you on a budget might find it a bit pricey. What I can say is that it is worth every penny!
It comes in several versions: tenkeyless (no numpad), ninja (blank keys), and full. There are also hobbyists dedicated to creating remarkable looking cases for these if you're modifying your keyboard for a nice custom look. If you are mainly into gaming, I'd personally recommend the Filco Majestouch-2 TKL with MX Brown switches.
Ducky One 2 Mini
The Ducky One 2 Mini is one of the more popular 60% size keyboards on the market. You can see there are not even any arrow keys, which can be a good or a bad thing depending on your preference. The keyboard is highly customizable and features a quality build with an aesthetically pleasing layout.
Many features and lots of quality fit into this small keyboard, which justifies the high-end price. Most gamers find the numpad and arrow keys useless, so a compact design like this is perfect for saving space. You can look up other reviews for this keyboard on places like Amazon and see they are overwhelmingly positive, for a good reason.
Overall, this is an excellent quality mechanical keyboard for all PC users, gamers especially. Ducky keyboards also come with a 1-year warranty, so you don't have to worry about it breaking down on you. The Ducky One 2 Mini keyboard comes in various switches, including Cherry MX Brown, Cherry MX Red, and Cherry MX Silent Red.
iKBC CD87
The iKBC CD87 is a keyboard not many people have heard of outside of the hardcore mechanical keyboard enthusiasts. The low price point is probably enticing for many people looking to snag a new mechanical keyboard, whether it be their first or tenth.
The keyboard features a plastic case with a steel plate, laser engraved keys, and PBT keycaps. It is another tenkeyless keyboard, so you can enjoy a compact design, but not as compact as the Ducky One 2 Mini. One noticeable thing upon using this keyboard is the quality.
Three levels of adjustable feet let you customize the height to your liking. You can also choose from Blue, Red, and Brown Cherry MX switches. As always, the brown switches provide an excellent combination of tactile-response without being obnoxiously loud.
Overall, I'd say the iKBC CD87 provides a fantastic bang for your buck and is easily one of the best valued mechanical keyboards out there to date.
HyperX Alloy Origins Core
HyperX is a company that needs no introduction for hardcore PC gamers. They make a wide range of peripherals and computer hardware, from keyboards to headsets and everything in between. With the explosion of eSports popularity, they have begun to focus more on producing high-quality gaming peripherals over the last few years.
The HyperX Alloy Origins Core is their latest mechanical keyboard model, featuring an aluminum aircraft-grade case, RGB lighting, and customization software. You can pick this keyboard up in various switches, including Cherry MX Blue, Cherry MX Red, HyperX Red, and Cherry MX Brown. This keyboard also comes in full size and tenkeyless for those of you that prefer a compact keyboard.
Overall, the build quality is reliable, and the RGB LED backlighting can make an excellent addition to your gaming setup. The price point is fair and provides almost as good a value as the iKBC CD87 while looking sleeker. The HyperX Alloy Origins Core mechanical keyboard is a solid choice that will not disappoint.
Razor Huntsman
Razer is another company that needs no introduction to gamers out there. They are known for producing gaming mice and headsets used by top tier professional gamers around the world. The Razer Huntsman is a keyboard that features optomechanical switches that are noticeably quicker than traditional Cherry MX switches.
The keyboard has a high-end price point of around $200. It comes in a standard size, and a tenkeyless model called the Tournament Edition at a lower price. You can also see the keyboard features RGB lighting and programmable keys. The keyboard is very comfortable to use overall and doesn't have the loudness of traditional MX Cherry Red switches.
Razer's justification for this price point is their new optomechanical switch technology. It feels great and looks nice, but it might not be a keyboard for everyone. If the Razer Huntsman price point were a tad lower, we would move it up higher on our list. We can see this being a difficult sell for some gamers, but it may be the perfect keyboard for others.
Disclosure: purchasing products through affiliate links will earn us a small percent commission which will go towards keeping our site running.