When Does Fortnite Chapter 3 Release?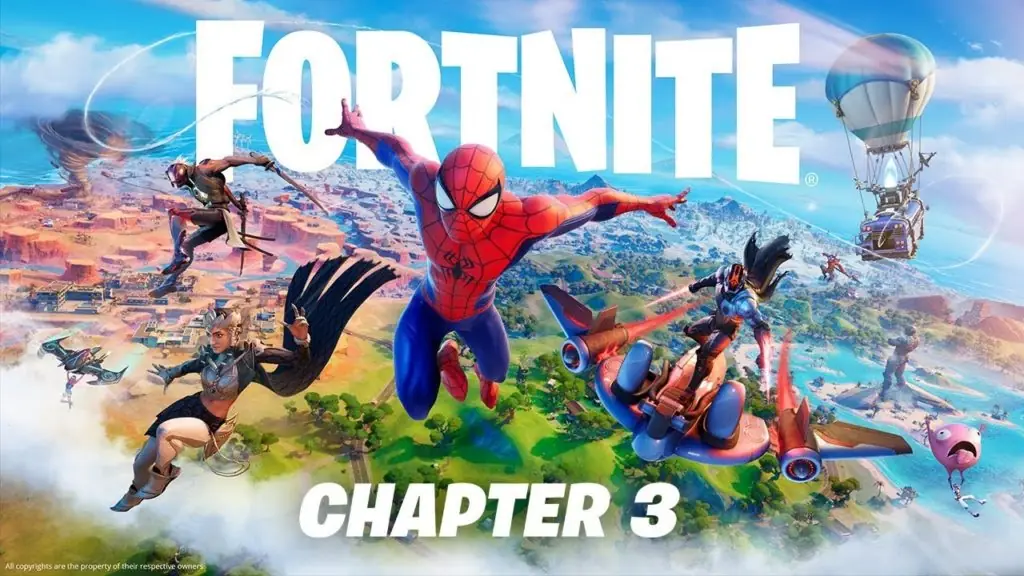 This past weekend saw the majorly hyped-up conclusion to Fortnite's chapter 2 storyline. It was a major in-game event with players battling against the forces of the Cube Queen, before The Foundation swooped in to save the day by literally flipping the entire island over, squishing the Queen in the process. Oh, and did I mention that The Foundation is Dwayne "The Rock" Johnson? Yep, it was a pretty wacky event, but there's always room for wackier stuff in the world of Fortnite. On that note, when does Fortnite chapter 3 release?
Since chapter 2 literally just ended, players were expecting it to be a little while before chapter 3 kicked off, maybe around Christmas or the New Year. However, it seems Epic Games was already locked and loaded, because as of writing, chapter 3 is already live!
When Does Fortnite Chapter 3 Release?
Fortnite Chapter 3 Season 1: Flipped released on Sunday, December 5, 2021. The new season introduces a swath of new features along with the new inverted island.
What's New in Fortnite Chapter 3?
In no particular order, chapter 3 of Fortnite includes:
New Characters
New weapons
New locations
New gameplay mechanics
Overhauled Quest and Social features
Through the new Battle Pass, you can unlock new characters like Ronin and Lt. John Llama, as well as The Rock as The Foundation later on in the season. The big crossover campaign for this chapter is none other than New York's favorite wall-crawler, your friendly neighborhood Spider-Man! Spidey is making the scene in his classic red outfit, his potentially sentient black outfit, and his lesser-used white Future Foundation outfit. There will also be new NPCs to interact with around the island, including former loopers freed by the Seven.
For weaponry, chapter 3 introduces seven new pieces to get intimately acquainted with. Those weapons include:
Ranger Assault Rifle
MK-Seven Assault Rifle
Striker Pump Shotgun
Auto Shotgun
Sidearm Pistol
Stinger SMG
Hunter Bolt-Action Sniper
But shooting stuff is hardly the most interesting way to play the game, which is why there are also several fun new features. If you and your squad enjoy sleeping out under the stars, pick up a Tent and set up camp! You and your mates can store items in your Tent and pull them out in future matches. Don't worry if the storm's coming. You can pack up at a moment's notice.
If you play consistently well, you may find yourself wearing a golden Victory Crown. It's an achievement, but it also paints a target on your back. Whoever ends a match wearing a crown gets bonus XP and a special emote, but other players can swipe it from you and claim the prize themselves!
If you're craving new ways to get around, chapter 3 has introduced Sliding, allowing you to skid around on flat and smooth surfaces while maintaining the ability to shoot and build. Starting December 11, you'll also be able to use Spider-Man's Web Shooters to swing around on nearby buildings and constructs!
Finally, some internal features have received an overhaul. Quests can now be picked up from the designated Quests page in the lobby rather than in-game, and in addition to Daily Quests, there are now Season Quests that run the whole season, as well as multi-stage Milestone Quests. If you're looking to tackle all this new stuff with friends, you'll want to check out the game's new Sidebar, currently in its testing stages. Using the Sidebar, you can check your friends' profiles to see where and what they're playing, including regions and playlists. You can also use the Sidebar to quickly add new friends from people you've recently played with. You can see basic profile information of any player, though you can also select what info you want to display and what you want to keep private.