The First WWE 2K23 Ringside Report is Here – How Does WarGames Work
Let the WarGames begin!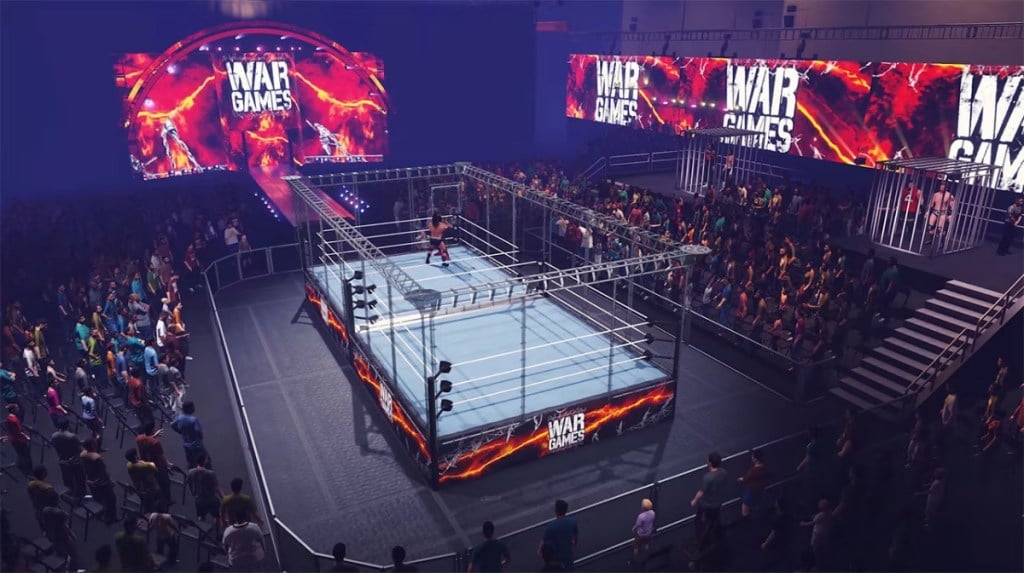 WWE 2K23 is promising to be an improvement over WWE 2K22 in a few ways. Lighting in arenas has been improved, custom wrestlers will get a visual upgrade, new wrestlers have been added to the roster, and WarGames will be a playable match type. Since 2018, fans have been waiting on this match type to be added to the game since its return to WWE. We got our first look at the mode last week through footage released on YouTube. Now, the mode has received a deep dive from 2K themselves.
How Does WarGames Work?
WarGames was introduced back in WCW in 1987. After WWE purchased WCW in 2001, the match made its return in 2017 and has been occurring every year since. WWE 2K23 marks the first time the match has ever been playable in a video game. Today, 2K released their first Ringside Report for WWE 2K23 with a focus on WarGames. Here are the official rules according to 2K:
We begin with two Superstars in the ring while team members are contained in separate cages
At regular intervals, alternating members of each team will be released from their respective cages and enter the match
Once all team members have been released and have entered the match, WarGames will officially begin
WarGames can be won by pinfall or submission or throwing your opponent off the cage
The match can be played in three arenas:
NXT TakeOver: WarGames
Survivor Series: WarGames
MyRise-specific Arena
During the match, players can fight between both rings in an area called the trough. Superstars with the springboard dive ability can jump between both rings to attack opponents.
For more details on the match check out the WarGames Ringside Report here. WWE 2K23 will be available on March 17th.
---
We hope you enjoyed our guide on WWE 2K23. Please check out Gamer Journalist on Facebook to join the discussion and keep up to date with our content. You may also want to check out our guide on Universe mode in WWE 2K23.