How to Ride the Rollercoaster in Cyberpunk 2077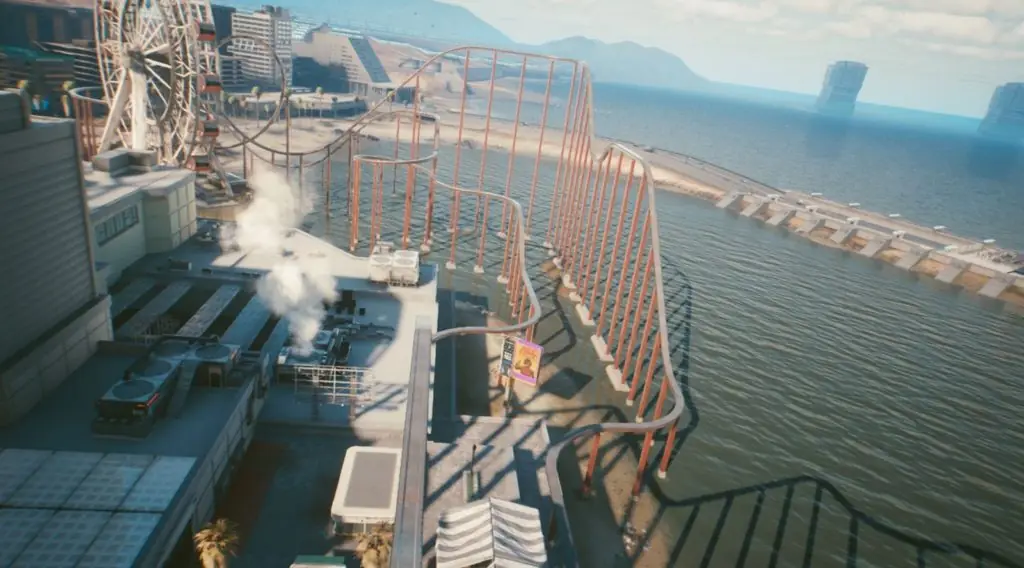 Personally speaking, I can't stand rollercoasters. I don't mind high rides, and I don't mind fast rides, but high and fast rides I just can't do. Of course, if Keanu Reeves offered to ride a rollercoaster with me, I'd probably be much more into the idea. He has a calming presence, what can I say? If that sounds like fun to you, here's how you can ride the rollercoaster with Keanu in Cyberpunk 2077.
Over in the Pacifica district of Night City, near the West Wind Apartments fast travel point, there's a small amusement park with a not-so-small rollercoaster, the Mega Ride. However, as a spot of graffiti in front of the coaster's entrance rather succinctly explains, the ride is broken. Luckily, if there's one skill V is proficient in besides shooting people, it's troubleshooting machinery.
How to Ride the Rollercoaster in Cyberpunk 2077
Walk up the steps of Mega Ride's entrance to see the docked coaster cart. You'll get a magnifying glass prompt, so turn on your optical scanner to get a look at what's wrong with it. Apparently, the safety locks kicked in a while ago due to power failure, so you'll need to restore that power to get the ride moving again. Now here's the slightly tricky part: while looking right at the cart's right side, turn to your left. You should see a railing with a seemingly large drop under it. Get a little closer, though, and you'll find a little balcony platform. Drop down onto the platform and turn back toward the cart, and you'll see the power box mounted on the wall. All you gotta do is interact with it to fix it, no skill checks required.
Once the juice is flowing, return to the cart, get in, and get ready for a thrill. Johnny will appear in the seat next to yours to join in the fun, earning you a rare genuine smile from the stoic rocker. Don't put your controller down during the ride, though; there'll be button prompts to throw your hands up in the air!