All Snowman Locations in Fortnite Chapter 3 Season 1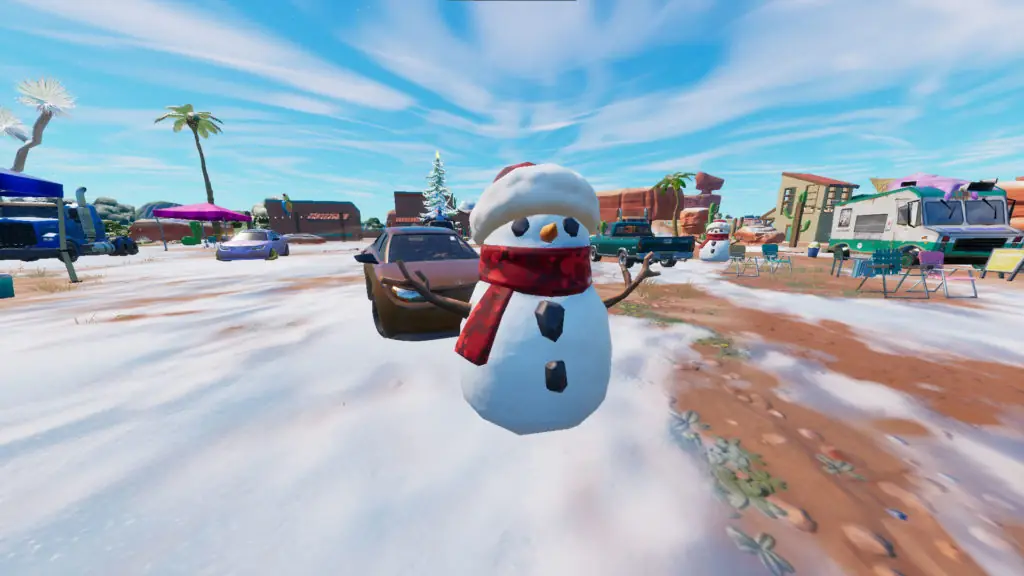 One of this week's Fortnite Winterfest challenges is to ram a snowman with a vehicle. Sounds pretty easy, but that's assuming you know exactly where all these snowmen are actually located around the map. Not to worry, though, because we've got you covered. Here's where to find all the Snowman locations in Fortnite Chapter 3 Season 1.
Keep in mind there are dozens of different Snowman locations around the Fortnite map. Obviously, you will want to focus on the snow biome zones like Rocky Reels and Greasy Grove, but we'll go into some more depth explaining the precise locations.
All Snowman Locations in Fortnite
Here is where to find a Snowman in Fortnite:
Rocky Reels
Camp Cuddle
Rocky Reels
The best spot to find many snowmen in Fortnite is at Rocky Reels. As you drop into the zone, you will notice several snowmen next to the cars parked near the giant projector screen. For this particular challenge, you'll just want to hop into any one of the vehicles and run down the poor snowman.
Camp Cuddle
Another good location, if your battle bus route allows, is over at Camp Cuddle. You can find a few snowmen hanging out next to the large log cabin in the northern part of the area where you'll also find some NPCs. There are also a few more next to the smaller cabins with red, yellow, and grey roofs.
If you are looking to complete the Winterfest 2021 challenge, your best bet is to land at Rocky Reels or Camp Cuddle. Between those two locations, you are bound to find at least one snowman to drive over in a vehicle. Aside from these two locations, you can cruise around the snow biome on Fortnite island and find plenty of snowmen elsewhere if you want to do some exploring.