5 Letter Words with R as Second Letter – Wordle Guides
We have a list of 5-letter words with R as the second letter to help you figure out the Wordle of the day.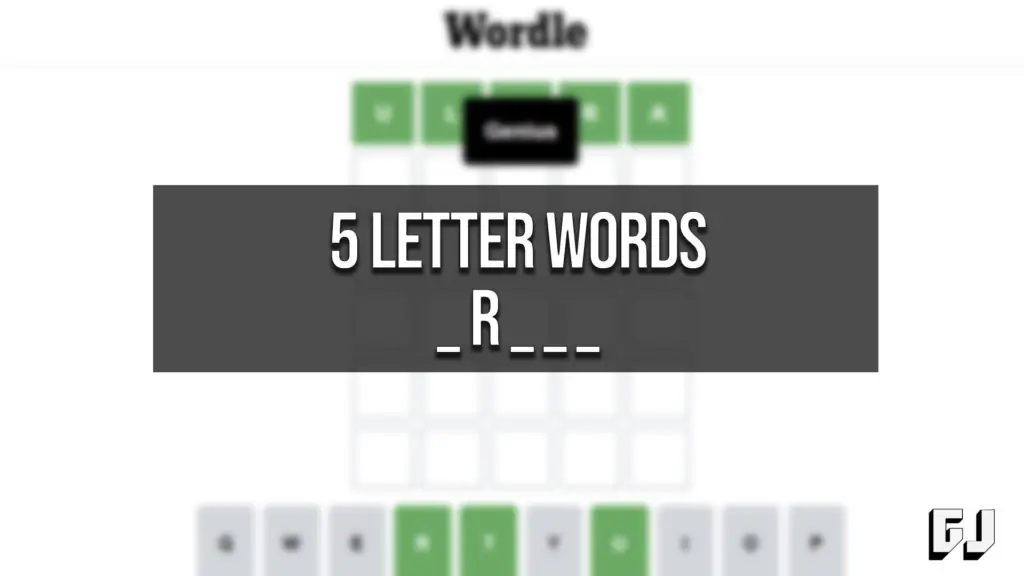 Wordle is a web-based word game gaining lots of popularity on social media. The fun and challenging game, along with its social media sharing element, can make for a few minutes of fun every day. Figuring out the daily word is not always a breeze, though, and sometimes you may need to look up a hint. That's why we're here with some word ideas for your Wordle clue with 5-letter words with R as the second letter.
Words With R as Second Letter
Below is a Wordle-compatible list of 5-letter words with R as the second letter. The list may seem exhaustive, but you can narrow it down using your previous guesses. Eliminate any words that contain invalid letters, and you will be left with a much more manageable list to work with and use to make an educated guess.
All 5-letter Words with R as Second Letter
arbor
ardor
arena
argue
arise
armor
aroma
arose
array
arrow
arson
artsy
brace
braid
brain
brake
brand
brash
brass
brave
bravo
brawl
brawn
bread
break
breed
briar
bribe
brick
bride
brief
brine
bring
brink
briny
brisk
broad
broil
broke
brood
brook
broom
broth
brown
brunt
brush
brute
crack
craft
cramp
crane
crank
crash
crass
crate
crave
crawl
craze
crazy
creak
cream
credo
creed
creek
creep
creme
crepe
crept
cress
crest
crick
cried
crier
crime
crimp
crisp
croak
crock
crone
crony
crook
cross
croup
crowd
crown
crude
cruel
crumb
crump
crush
crust
crypt
draft
drain
drake
drama
drank
drape
drawl
drawn
dread
dream
dress
dried
drier
drift
drill
drink
drive
droit
droll
drone
drool
droop
dross
drove
drown
druid
drunk
dryer
dryly
erase
erect
erode
error
erupt
frail
frame
frank
fraud
freak
freed
freer
fresh
friar
fried
frill
frisk
fritz
frock
frond
front
frost
froth
frown
froze
fruit
grace
grade
graft
grail
grain
grand
grant
grape
graph
grasp
grass
grate
grave
gravy
graze
great
greed
green
greet
grief
grill
grime
grimy
grind
gripe
groan
groin
groom
grope
gross
group
grout
grove
growl
grown
gruel
gruff
grunt
irate
irony
krill
orbit
order
organ
prank
prawn
preen
press
price
prick
pride
pried
prime
primo
print
prior
prism
privy
prize
probe
prone
prong
proof
prose
proud
prove
prowl
proxy
prude
prune
trace
track
tract
trade
trail
train
trait
tramp
trash
trawl
tread
treat
trend
triad
trial
tribe
trice
trick
tried
tripe
trite
troll
troop
trope
trout
trove
truce
truck
truer
truly
trump
trunk
truss
trust
truth
tryst
urban
urine
wrack
wrath
wreak
wreck
wrest
wring
wrist
write
wrong
wrote
wrung
wryly
That's our complete list of 5-letter words with R as the second letter. You might be able to get some good ideas from these words that will help you finish off the puzzle if you're stuck. If you ever need help with any other aspect of this game, you can simply visit our Wordle section for more word lists, clues, and guides.