Wordle Hint – 5 Letter Words Ending with GE
Need a Wordle hint? Here are all the 5 letter words that end with GE.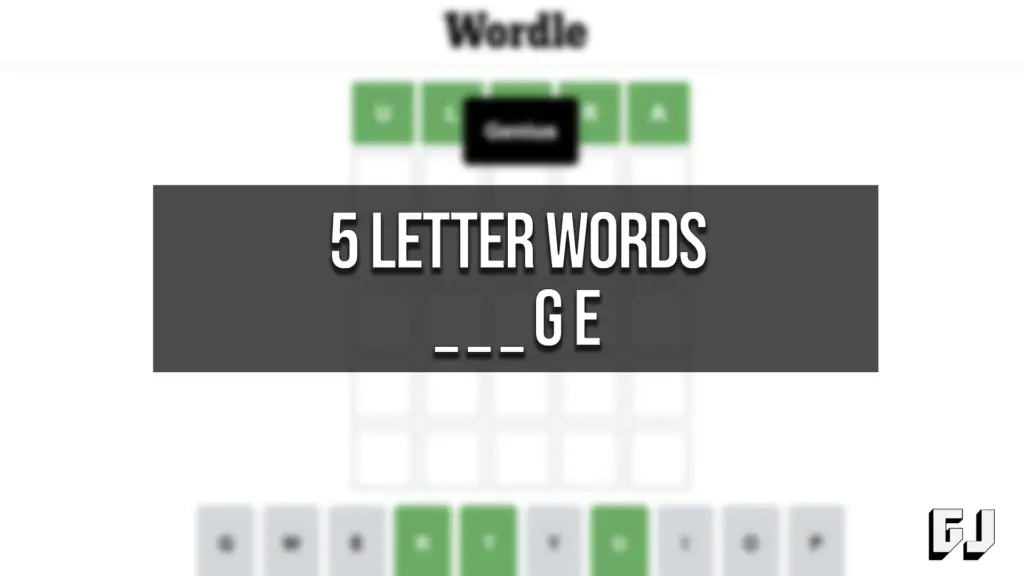 There are nearly thirteen thousand possible five-letter word guesses in Wordle. That's a nice pool of words to choose from when you start, but your choices narrow, and things get more difficult as the game progresses. If you managed to lock in the last two letters but are struggling to think of any words, fear not, we are here to help. Check out some helpful Wordle hints where the last two letters are G and E below.
Our word list pulls from the Wordle dictionary, so all of the hints here will be valid guesses in Wordle. If you want more specific help, you can use our Wordle helper tool. Using our tool, you can get word suggestions by entering your game's current state, including the letters you guessed in the correct and wrong positions.
5 Letter Words Ending with GE
Here is our list of all the potential five-letter words you can use in Wordle, that end in GE.
merge
siege
rouge
surge
apage
judge
dirge
bulge
range
large
wedge
mange
liege
bodge
ridge
bilge
budge
fudge
dodge
gorge
dinge
cerge
gouge
image
singe
barge
adage
gauge
cadge
usage
nudge
hinge
verge
lunge
minge
binge
gunge
hedge
ledge
eloge
bouge
stage
beige
venge
badge
conge
tenge
purge
forge
menge
lodge
podge
midge
legge
hygge
kluge
longe
radge
grege
kidge
sedge
pudge
etage
swage
ligge
serge
virge
wodge
porge
peage
agoge
phage
marge
kedge
tinge
plage
gadge
madge
fadge
winge
modge
parge
pogge
wenge
munge
wadge
mudge
henge
gurge
vouge
ginge
sarge
targe
fidge
Not all words are created equal when it comes to Wordle. There are methods you can use for picking the best word from the hints above. The general rule is to pick words that have the most popular vowels and consonants in them. Also, it's good to avoid words that have duplicate letters. You can use our Wordle starter word guide to help you out.
We hope our list of five-letter words ending with GE helped out your Wordle game, and you figured out the daily word. Check out other helpful Wordle hints for future daily puzzles.